Fighting Climate Change for Agro-Pastoral Communities in Sudan
OWSD's guidance and support allowed me to uncover hidden courage and realize aspects of myself that I never thought I possessed.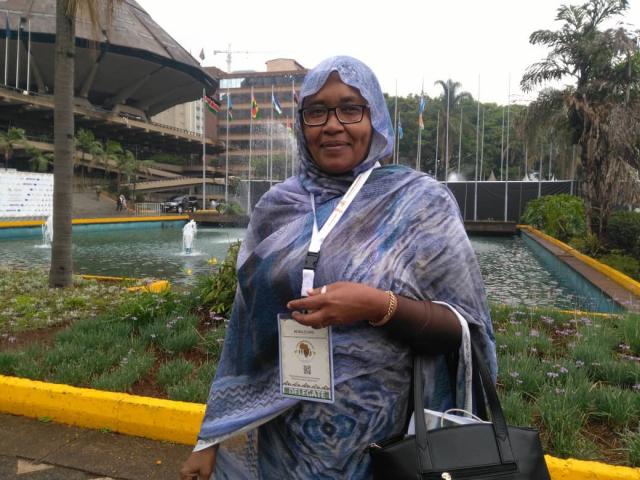 The vulnerability to climatic stress of agro-pastoral based communities in Sudan is compounded by various issues. Amongst these there is an inadequate understanding amongst the scientific community of the nature and degree of  vulnerability of these communities. This is due to poor facilitation, minimal access to regionalized climate change scenarios, limited methodological experience and skill in regional modeling. Collaboration between meteorological and agricultural scientists is still week. Since returning to Sudan in 2007, I have tried to pass on to my students and colleagues at University of Gezira, the technical skills, knowledge and experience gained. I have also published several Papers in international and regional journals. In 2013, I was appointed associate professor and as deputy Dean of Graduate Studies and Scientific Research and am conducting research in climate change aspects with research team of scientist from Sudan and international institutes, as well as supervising M.Sc. and Ph.D. Students.
I was very privileged to have received the opportunity to be trained and involved in Ph.D. study under the OWSD fellowship in 2003, in one of the leading South Africa Universities, University of the Free State. I was trained at the department of Crop, Soil and Climate Sciences, Faculty of Agriculture and Natural Resources, between 2004 and 2007. My PhD focuses on climate change, a topic still poorly examined in Sudan. The OWSD fellowship helped me to address these gaps by studying climate change and human activities as driven force for land degradation and desertification in rangeland in North-Eastern part of Sudan. I will remain highly grateful for the support, encouragement and guidance bestowed on me by OWSD, which helped me to pass through all the difficulties and gave me the strength to accomplish what I set out to do. It allowed me to uncover hidden courage and realize aspects of myself that I never thought I possessed.
Related links