Celebrating the Achievements of 28 OWSD PhD Fellows Graduating in 2022
May 23, 2023
In 2022, 28 exceptional women scientists from science- and technology-lagging countries have successfully completed their doctoral studies through the prestigious OWSD PhD Fellowship program. Supported by Sida, they have made significant contributions to diverse research areas, advancing science and promoting gender equality.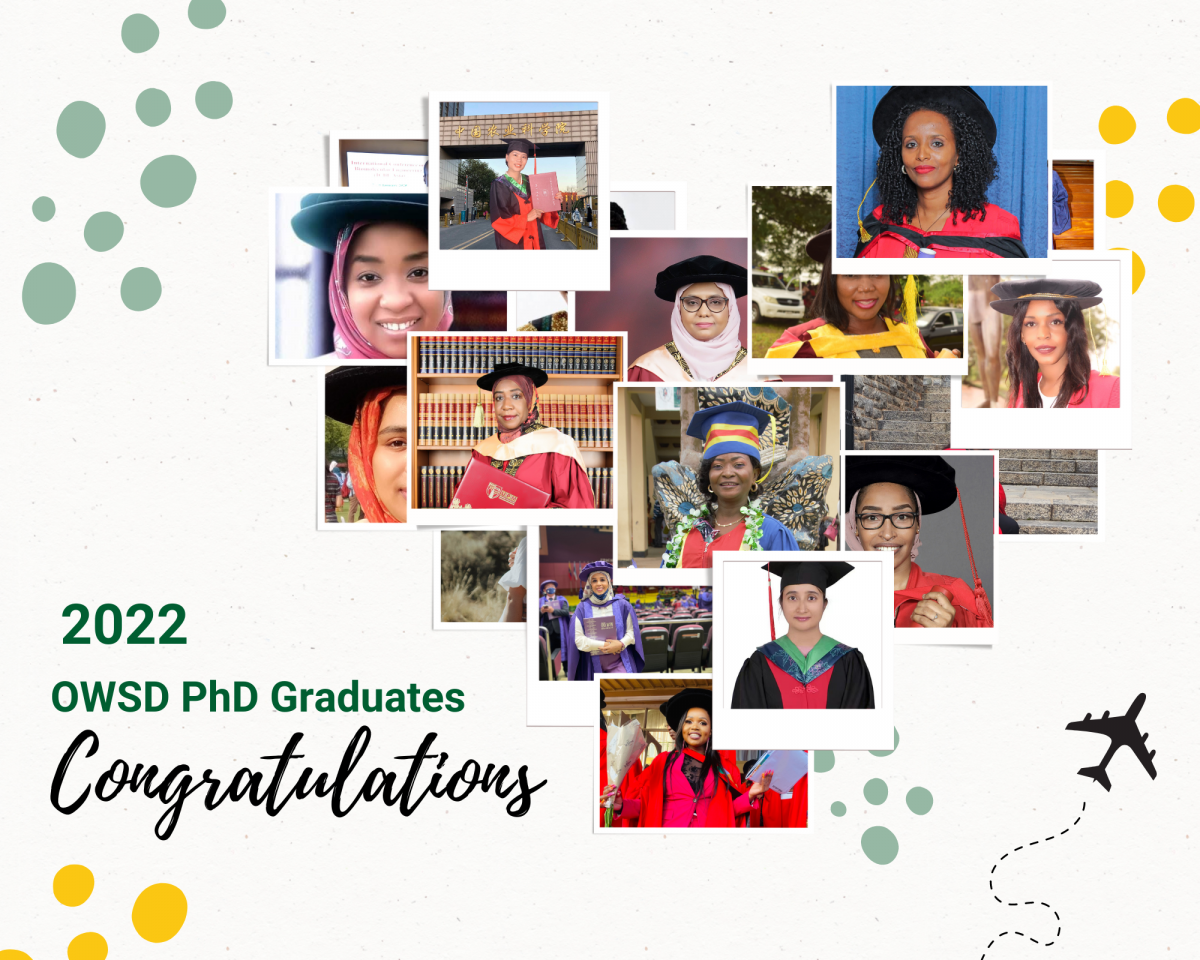 The Organization for Women in Science for the Developing World (OWSD) takes great pride in celebrating the remarkable achievements of the 28 OWSD PhD Fellows who have successfully completed their doctoral studies in 2022. These exceptional women scientists, hailing from science- and technology-lagging countries (STLCs), have showcased their dedication, perseverance, and scientific excellence throughout their PhD research journey.
The OWSD PhD Fellowship, generously funded by Sida, provides a unique opportunity for women scientists from STLCs to pursue their doctoral studies in the natural, engineering, and information technology sciences. This fellowship empowers them to undertake their research at host institutes in other developing countries within the Global South, fostering international collaboration and knowledge exchange.
The recently released data highlights the diverse accomplishments of the 2022 OWSD PhD Fellows. With representation from a variety of host institutes, including Universiti Putra Malaysia (UPM), Rhodes University, and Graduate School of the Chinese Academy of Agricultural Sciences (GSCAAS), among others, these remarkable women have contributed to cutting-edge research in their respective scientific fields.
The data further reveals that the majority of these accomplished women scientists pursued their PhD studies on a full-time basis (68%), showcasing their commitment to advancing scientific knowledge. The sandwich program, which allows for research periods at multiple institutions, was chosen by 28% of the fellows, enabling them to benefit from interdisciplinary experiences and international collaborations.
The graduates' scientific areas of research covered a wide spectrum, ranging from agricultural sciences and molecular biology to bioinformatics and renewable energy engineering. This reflects the diversity and multidisciplinary nature of the research pursued by the OWSD PhD Fellows, who are dedicated to addressing pressing global challenges.
The success of these talented women scientists is a testament to their unwavering determination, resilience, and passion for scientific exploration. Their achievements contribute not only to their personal growth but also to the advancement of scientific knowledge and the empowerment of women in the scientific community.
OWSD extends its heartfelt congratulations to the 2022 OWSD PhD Fellows on their outstanding accomplishments. Their remarkable contributions inspire future generations of women scientists, fostering a more inclusive and diverse scientific landscape worldwide.
The 2022 OWSD PhD Fellows Graduates
Ayokunmi Omolola Oyeleye

Nigeria

in Microbiology/ Molecular Biology from 

Universiti Putra Malaysia (UPM)

 

Sarah Abdelrahman Abualmaali

Sudan

in Population genetic/Arboviral diseases from

University Science Malaysia (USM)

Aysha Akter

Bangladesh

in Agricultural sciences from

Universiti Putra Malaysia (UPM)

 

Nathalie Benge Ngalya

Congo, Dem. Rep.

in Genetic diversity from

University of Zimbabwe

Annae Maria Senkoro

Mozambique

in Plant conservation from

Rhodes University, South Africa

Thahamina Bagum

Bangladesh

in Agricultural Sciences from

Universiti Putra Malaysia (UPM)

Therese Umuhoza

Rwanda

in Health Sciences, Medical Virology from

University of Nairobi, Kenya

Ratna Rani Majumder

Bangladesh

in Molecular Breeding from

International Rice Research Institute (IRRI), Philippines‎

Banigbe Itounou  Olodo

Benin

in Hydrobiology from

University of Lomé, Togo

Oberline Fokou Yemata

Cameroon

in Biology/Genetic of plant/Molecular genetic of crop plant from

Centre d'Etude Regional pour l'Amelioration de l'Adaptation a la Secheresse (CERAAS), Senegal

Epiphania Geza

Zimbabwe

in Bioinformatics from

University of Cape Town (UCT)

Afrah Khairallah

Sudan

in Cell and Molecular Biology/ Genetics from

Rhodes University, South Africa

Regina Abotsi

Ghana

in Antibiotic Resistance from 

University of Cape Town (UCT), South Africa

Michèle Stella Majoumouo

Cameroon

in Discovery of new plant-derived antiproliferative molecules from

University of the Western Cape, South Africa

Precious M. Tshabalala

Zimbabwe

in Agricultural Sciences from

Universiti Putra Malaysia (UPM)

Salma Dafa Allah Ahmed Omer

Sudan

in Mathematics and Computer Sciences from

University of the Witwatersrand (WITS), South Africa

Zviemurwi Chihambakwe

Zimbabwe

in Renewable Energy Engineering and Sustainable Development from

Stellenbosch University, South Africa

Abeer Abdalla Zakaria Ibrahim

Sudan

in Wireless Communication Engineering from

Universiti Putra Malaysia (UPM)

Lydia Mboje Kisula

Tanzania

in Medicinal organic chemistry from

Rhodes University, South Africa

Dora Murielle Rajonhson

Madagascar

in Medical entomology from

Mahidol University, Thailandia

Tsige Yared Atilaw

Ethiopia

in Space Physics from

Rhodes University, South Africa

Maureen O. Chijioke-Okere

Nigeria

in Photocatalytic removal of pharmaceutical residues in aqueous systems from

Universiti Putra Malaysia (UPM)

Maram Ali Ahmed Musa

Sudan

in Material Science from

Universiti Putra Malaysia (UPM)

Tsedale Demelash Lebssie

Ethiopia

in Crop modelling; agro-meteorology & climate change from

Graduate School of Chinese Academy of Agricultural Sciences (GSCAAS), China

Anna Ntsoaki Nyane

Lesotho

in Pharmacology from

University of KwaZulu-Natal, South Africa

Manita Aryal

Nepal

in Agricultural Sciences, Preventive Veterinary Medicine from

Graduate School of the Chinese Academy of Agricultural Sciences (GSCAAS), China

Aye Nyein Chan

Myanmar

in Agricultural Sciences from

Graduate School of the Chinese Academy of Agricultural Sciences (GSCAAS), China

Yolande Openda

Congo, Dem. Rep.

in Chemistry/photochemistry from

Rhodes University, South Africa