Call for Applications opens for 2022 OWSD Early Career Fellowships
August 17, 2022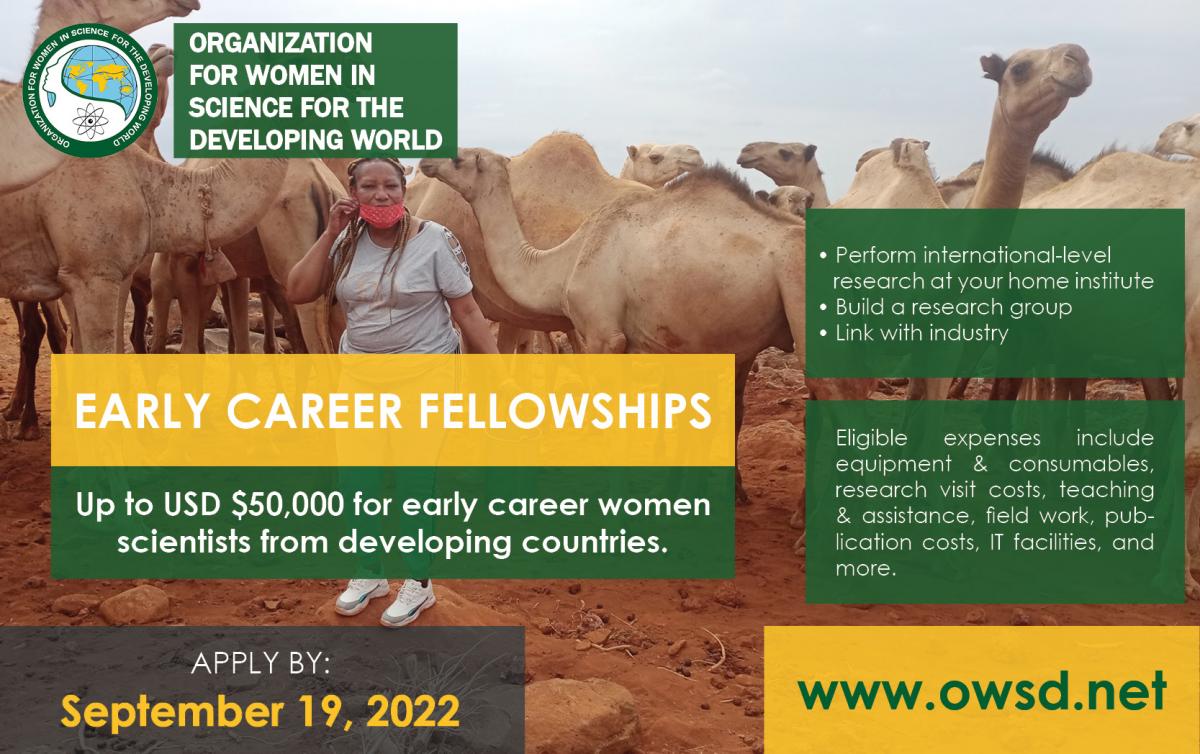 The Call for Applications for the 2022 OWSD Early Career Fellowship for women scientists from the developing world opened 16 August 2022, and will close 19 September 2022. 
This fellowship is a prestigious award of up to USD 50,000 offered to women who have completed their PhDs in Science, Technology, Engineering and Mathematics (STEM) subjects and are employed at an academic or scientific research institute in one of the listed Science and Technology Lagging Countries (STLCs). The OWSD Early Career fellows are supported to establish environments at their institutions where they can maintain an international standard of research and attract scholars from all over the world to collaborate.
All of the information needed to prepare and submit an application can be found here. This same information is also available for download.
You can find a list of Frequently Asked Questions here. Please consult this list before sending questions to the OWSD Secretariat.
All applications must be submitted online.
The official language for the application is English.
In order to help you prepare, the application is also available as a pdf for your reference only.
Please note that an applicant, at the time of application, must NOT have an active research grant or fellowship with The World Academy of Sciences (TWAS) or have already submitted an application for a TWAS programme within the same given year. Only one application per year is possible across all TWAS and OWSD programmes. Applicants will not be eligible to visit another institution in that year under the TWAS Visiting Professor programmes.
However, candidates can still apply to the OWSD-Elsevier Foundation awards (please note that previous OWSD-EF winners are also eligible).
For questions that are not answered in the information provided or in the FAQs, please contact earlycareer@owsd.net. Please make sure to read carefully all the instructions provided. The Secretariat reserves the right to not provide feedback on information already available in the Call and the FAQs.
To learn about the benefits of the Fellowship, see our videos below. 
Video: 2019 Early Career Fellow Dina Machuve uses computer science to support poultry farmers
Video: OWSD Early Career Workshop 2018